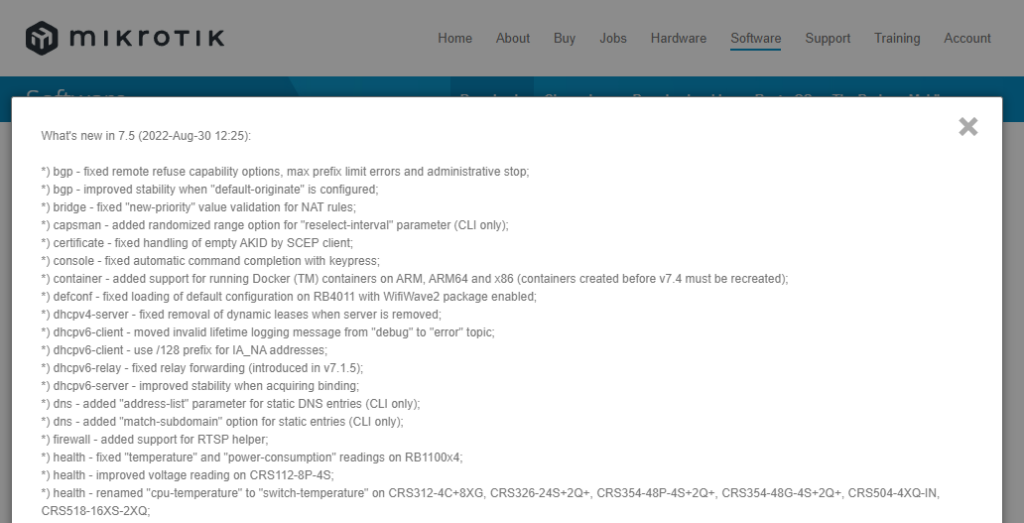 The pace of development for MikroTik RouterOS version 7 has definitely sped up in 2022 and we are seeing the results in improved stability and features added.

As of August 31st, 2022, MikroTik moved ROS v7.5rc2 into v7.5 stable

MikroTik Routers and Wireless – Software

Noteworthy additions
dhcpv6-relay – not being able to relay a PD request from a delegating router for IPv6 has been a limitation of MikroTik routers for a while so getting this fixed has a big impact on scaling MikroTik IPv6 deployments
RTSP helper – The addition of a Real Time Streaming Protocol helper is a great addition to ROSv7 to make NAT traversal for realtime applications (IPTV, SIP and IP cameras) easier.

A good overview of the discussion leading up to the addition of RTSP is here: RTSP Helper – MikroTik
l3hw – fixed hw offloaded NAT – This feature still has some issues as IP ArchiTechs recently filed a bug (SUP-91389) where src-nat traffic that carries an H flag in the connection table will die after 1 hour with a 10G load on the router. Once this feature receives further bug fixes and testing, it's going to be very useful for high capacity but low cost NAT44 gateways.

lte – this category got a significant amount of development work as there are numerous fixes with many relating to the Chateau devices.

wifiwave2 – There was also a significant amount of development in wifi wave 2 which included notable additions like 802.11k for roaming.

 vrrp – added "sync-connection-tracking" compatibility with preemption-mode – this is a long awaited feature that showed up early in ROSv7 but did not have pre-emption mode capabilities. The addition of connection synching between routers positions MikroTik routers much closer to traditional enterprise firewall vendors so that failover between devices can include connections.